2020 Autumn Online Seminar of Demire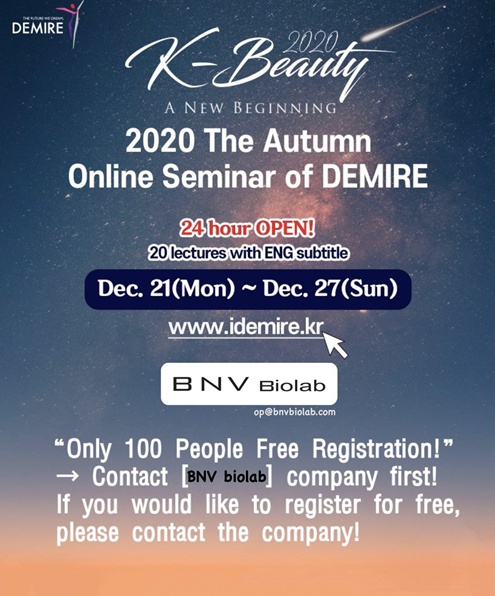 [📢 대미레 온라인 학회 공지] DEC 21-27, 2020
⏰ Open 24 hours for 2 weeks
"Free Registration!"
→ Contact Sponsors company manager first!
If you would like to register for free, please contact the company!
-The Most Lastest Aesthetic 20 Presentations
-Registration up to 1,800 Doctors
→ Please sign up the [www.idemire.kr], Available on PC & Mobile.
→ Please Register in advance with your registered email account.
→ Please remember your email account and password.
★Our support team is here to help you by
email at op@bnvbiolab.com or by phone at +82-2-3452-0240
BNV Biolab 쇼핑몰 : www.bnvbio.com
#BNV #BNVBIOLAB #BNVBIO #비엔뷔바이오랩 #비엔뷔 #바이오랩 #MEDISPA #메디스파 #MPF #BENEV #베네브 #SMPF #여드름관리 #연예인피부 #재생앰플 #진피재생 #피부관리 #속건조#복합성장인자 #건조 #기미제거 #피부재생 #물광앰플 #아기앰플